The Ultimate Mallorca Guide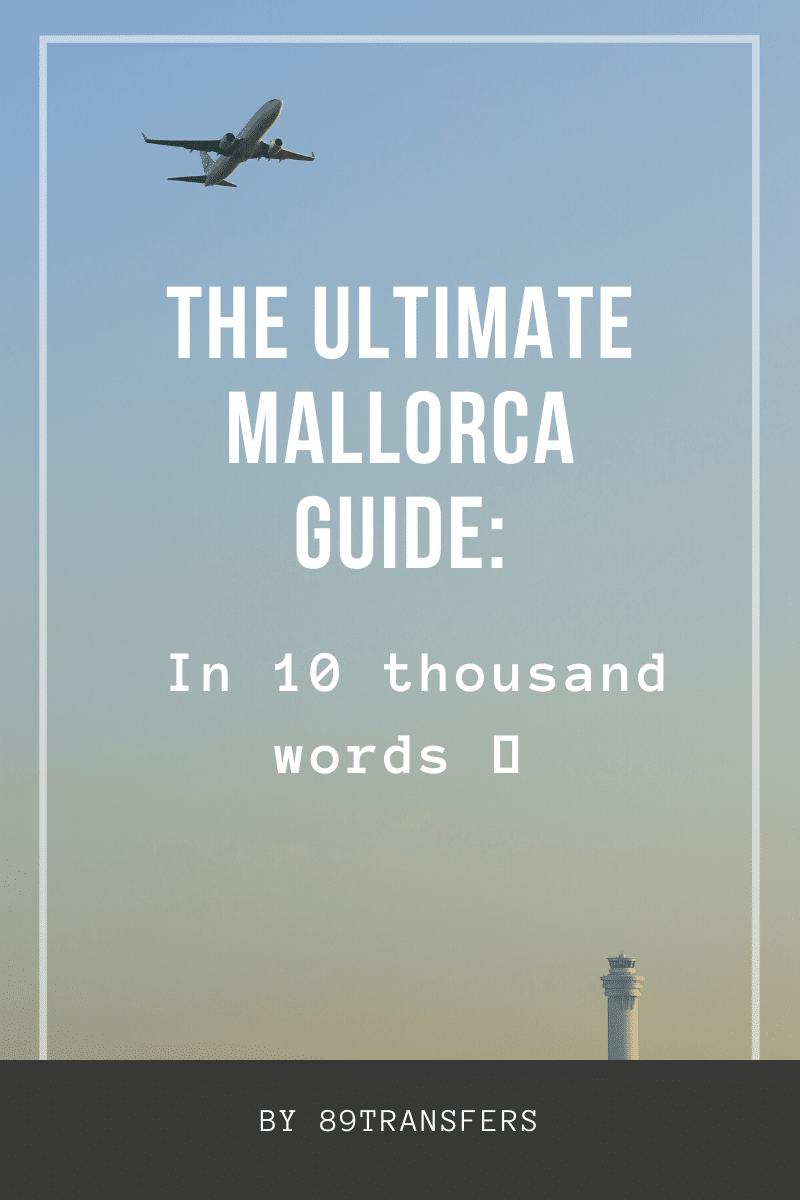 Introduction 
Picture an island that is surrounded by the sea carrying vibrant shades of blue, lined with sun-kissed beaches, dotted with majestic mountains, and laden with all things Mediterranean. Add to that welcoming warmth of locals, a blend of old and new architecture, a handful of rustic towns, a dash of outdoor adventure, and what you have is the prismatic island of Mallorca. This Spanish beauty is an effortless charmer that attracts travellers from around the globe with open arms.
Majorca, also known as Mallorca, is the largest Mediterranean island in the Balearic Islands and is part of Spain. If you look at the map of Mallorca, you will see that it is not far from the famous island of Ibiza. With Palma de Mallorca Airport, one of the busiest airports in Spain, located on the island, it is well-connected with the world. As millions of tourists flock to the island each year, it has transformed into one of the popular holiday destinations in Europe. Keep in mind that Catalan and Spanish are the official languages here. English and German are also fairly spoken on Mallorca.
Its capital city Palma de Mallorca is a treat to explore. Steeped in history that is defined by hundreds of years and fiercely proud of its traditions, Palma is everything a traveller dreams of. As you wander through the maze of winding streets in Old City, it will steal a piece of your heart with sights like Banys Àrabs or the Ajuntament. And of course, how can you forget The Cathedral of Santa Maria of Palma that has become the identity of Palma? Apart from popular places like Cala Major Beach on the island, Palma is the reason that makes Mallorca holidays a real delight. Along with the capital city, towns like Manacor, Alcúdia, Valldemossa, and Calvià are also a must in any Mallorca itinerary. 
So, plan a trip to Mallorca, explore its land, laze around on the beaches, catch some tan, and you will realize Mallorcais not a place, it is a mood, a feeling of ultimate leisure!
Weather 
Majorca weather is known for its delightful Mediterranean vibes. This is the place where bright summers and mild winters dominate autumn and spring. Weather in Mallorca is usually pleasant than most of the European regions and that makes it a perfect holiday destination throughout the year. 
Summer (June to September) – Temperature in Mallorcain June sees the slow rise that continues over the next couple of months. Mallorca summers maintain the average high temperature between 25 to 30 degrees Celsius. The water temperature is ideal for watersports enthusiasts and the beaches are visited by sun-worshippers during this time. Considering all these things, summer is the best time to visit Mallorca. 
Autumn – (October to November) – Autumn season in Mallorcais a brief period that lasts less than 2 months. October is a good month to visit Majorca if you want to get away from crowds. This low tourist season also means cheaper hotel rates for those travelling on a budget. Even though the weather in Mallorcain October during the day still feels like summer, the night starts getting cooler with a hint of winter in the air. 
Winter (December to February) – Mallorca winter is usually mild, often windy, and always loved by visitors. Some of the bars and restaurants may remain closed, but winter is good for those who want to explore the island without worrying about tourist summer groups. So, if you are fond of 14 degrees Celsius of the average temperature during the day and 4 degrees Celsius at night, then Mallorca winter holidays are for you!
Spring (March to May) – Spring season in Mallorca is hardly for two months and even during that time, water temperature is mostly too cold to enjoy a dip. But, from mid-May, you will start noticing summer weather. 
Keep in mind that October and December are the wettest months in Mallorca. So, if you are not fond of rains, consider visiting Mallorca in Summers for the perfect holiday. 
Transport in and around Mallorca
You do not have to worry about getting in and getting around Mallorca as it has reliable transport services for all types of travellers. 
Get in – 
The island of Mallorca is well-connected with the rest of the world by flights and ferries. It is served by Palma de Mallorca Airport – one of the largest airports in Spain which caters to millions of passengers every year. This international airport in Mallorca is only 8 kilometres or 5 miles away from Palma and has good connectivity with the capital city. Many European cities have frequent flights to Mallorca , making it reachable without any hassle.
Another way of reaching Mallorca is to catch a ferry from other neighbouring Balearic Islands. You will also find different ferry terminals along the Spanish coast. The super-fast ferry service from Denia Alicante as well as Valencia and Barcelona to Mallorca ferry service caters to travellers throughout the year. If you are travelling from Menorca to Mallorca, then a ferry to Alcudia is also available. 
Get around – 
The public transport in Mallorca consists of several options like buses, trains, and taxis. It connects different parts of the island excellently and does not burn a hole in your pocket.
Buses in Mallorca– There is a public bus system known as The Empresa Municipal de Transports (EMT) in Mallorca that has 2 lines. It helps you explore Palma and its surrounding areas. Other buses outside of Palma are usually managed by Transport de les Illes Balears. Most of the urban routes run from 6am to 11pm. But the schedule may change depending on weekdays, weekends, and tourist seasons. If you are exploring rural parts of Mallorca by bus, then keep in mind that it may get a little unpredictable during the low tourist season. 
Trains in Mallorca– Inland train transportation is ideal for those who are interested in exploring selective areas only. You will find that the train routes in Mallorca are limited to Manacor, Puerto de Sóller, Sa Pobla, Inca, and Sineu. Even though rural train stops are fewer, shuttle buses make it easier to explore Mallorca. 
Also, do not miss a chance to take a ride on the century-old narrow-gauge wooden train that runs between the towns of Sóller and Palma. This quaint train is a journey back in time that is accompanied by scenic views the island is known for. One of the main tourist attractions in Mallorca, this train also stops at Bunyola and Son Sardina, allowing you to check out the rustic countryside. 
Mallorca transfers from Palma de Mallorca Airport – You will find plenty of transfer services from the Mallorca Airport to your accommodation. The reliable ones like 89transfers are preferred by travellers as it assures no added costs and is available 24 hours a day, 7 days a week. It is recommended to book Palma Airport transfers in Mallorca  well in advance during the peak tourist season to avoid the last-minute hassle. Some taxi services may calculate additional charges for night rides, airport or dock pick-up and drop-off. 
Car hire in Mallorca– Hiring a car to explore Mallorca  at your own pace is the most popular choice when holidaying in Mallorca. From compact economy cars for budget travellers to luxury vehicles for leisure-seekers, this island caters to all types of tourists. Car rental in Mallorca is a safe option and lets you keep a flexible itinerary to suit your pace. 
You will also find an interesting option of taking a Galera when exploring Palma. This is an open-top horse-drawn carriage where drivers act as a guide and help you understand the history of the city during an hour-long ride.
Things to do in Mallorca 
The entire island of Mallorca is full of interesting activities and exciting things to do. The best way to understand what to do in Mallorca is to divide this into two parts. First, know all about things to do in Palma and then, check other popular activities on the island. 
Things to do in Palma 
Take a historic train to Soller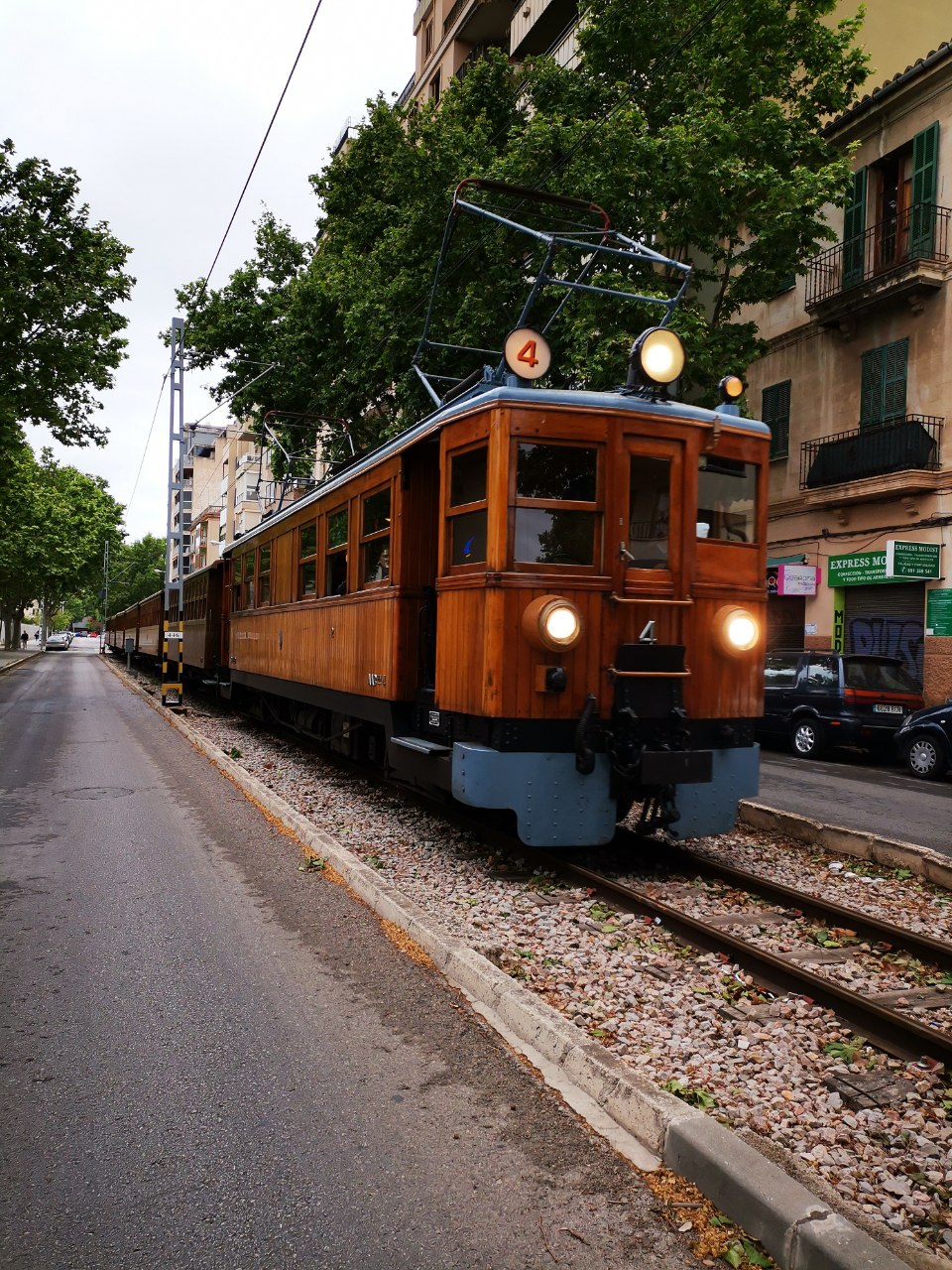 You do not have to be Sheldon Cooper to fall in love with this vintage train from Palma to Soller. This hour-long journey will take you through more than 10 tunnels and will unfold picturesque scenery in Mallorca. No doubt it is one of the best things to do in Palma de Mallorca. And if you want, stop at Bunyola and take a tour of the Túnel Factory. This is where Mallorca's famous herb-based liqueurs are made.
Soak in the local flavour at Plaza Mayor 
For those interested in free things to do in Palma, Plaza Mayor is the place to be! This is the square where Mallorca's cobblestone streets come together. Surrounded by art galleries, stunning buildings, cafes, restaurants and home to talented street artists, spending a few hours in Plaza Mayor is the best way to get a glimpse of Palma. 
Hit the bars to dance the night away 
You cannot be in Palma and not be a part of its bustling nightlife. This city is undoubtedly the perfect place to grab a drink, dance a little, and enjoy the best of night. From authentic tapas bars to quirky nightclubs, Palma nightlife will never disappoint you. And if you explore the old town area, pop-up concerts and live music sessions are ready for you.
Explore the world under water 
Staying in Palma will give you a chance to choose from different water activities. Snorkelling, diving, sailing, cliff jumping, jet-skiing, flyboarding, canoeing, paddleboarding – you name the activity and Palma has it for you. All these watersports and activities make for some of the best things to do in Palma. If you do not want to do it on your own, you can also be a part of guided group tours. 
Buy souvenirs at Emblematic shops of Palma de Mallorca 
The souvenir shopping in Palma is something that's fun and educational at the same time. A store that is at least 75-years-old, sells traditional trades of the Balearic Islands, and is located in a heritage building makes for an Emblematic shop. This fascinating combination is where you will find traditional and contemporary wickerwork souvenirs along with toys, hand-blown glasses, and many more things.
More things to do in Mallorca 
Go hiking in Torrent de Pareis
The rugged, deep canyon of Torrent de Pareis is every hiker's dream come true. You will have to dedicate an entire day for this hiking in Mallorca, but believe us, it will be worth every minute. Of course, the climbing passages and winding routes are moderately hard and it is recommended only for seasoned outdoor enthusiasts.
Take a hot balloon ride 
No matter how many days you spend on the island, there will always be a part of Mallorca that is left unexplored. So, what can be better than taking a hot balloon ride to take in the breathtaking views of the landscape, right? So, if you are interested in such activities in Mallorca, try to book your ride at least a week in advance. Also, opt for a sunrise hot balloon ride to make the best of your holiday. 
Enjoy scenic cycling routes 
When 'The Telegraph' hinted that Mallorca is the greatest destination in the world for cycling, it was not exaggerating. Its Mediterranean weather, routes that combine coastal and mountain views, and a variety of well-maintained options to choose from, make cycling one of the top things to do in Mallorca. 
Take a road trip along the coast 
Not much of a cycling or hiking enthusiast? Don't worry, Mallorca has the perfect gift for you! Rent a car in Mallorca, hop in, start driving, and let the road take you on one spectacular journey. One of the most popular Mallorca  road trips includes a journey along the west coast. It usually starts from Valldemossa or Deia and takes you to the Cap de Formentor. But feel free to explore different routes as each one is equally exciting. 
Hop in the boat and go to Dragonera Island
The inhabited islet of Dragonera is often overlooked by many as it does not fit the popular definition of Mallorca holiday. But this underrated, untouched destination is ideal to get away from all the hustle-bustle and reconnect with nature. Take a guided tour to spend a couple of hours on Dragonera Island and learn about its unique flora and fauna. 
Places to see in Mallorca 
The easiest way to know about places to see in Mallorca is to understand which attractions Palma is famous for and which gems are located in other parts of the island. While creating your travel plan for Mallorca holidays, it would be advised to check this listing that covers different tourist attractions in Palma as well as Mallorca. 
Places to see in Palma – 
Catedral-Basílica de Santa María de Mallorca
Catedral-Basílica de Santa María de Mallorca is popularly known as La Seu. Its Catalan Gothic structure is influenced by Northern European architectural style and is steeped in history. This took more than 3 centuries to complete and one look at its magnificence will tell you why. From the world's largest rose window of gothic architecture to the exquisite carvings, all the details make it one of the top tourist attractions in Palma. 
Castell de Bellver
Bellver Castle is another Gothic structure in Palma that has witnessed how the city developed over the centuries. Its circular shape makes it one of the few such castles in Europe. It started as the residence of the Kings of Mallorca and was later converted into a military prison. But today, this significant historic landmark has been transformed into the city's history museum and welcomes thousands of visitors each year. 
Palma Aquarium
When it comes to exciting things to do in Mallorca for families, Palma Aquarium is the place to be! With 55 tanks and more than 700 different species, this aquarium is a must for marine life enthusiasts. Be it Europe's deepest shark tank or the largest collection of live coral, Palma Aquarium will take you on a fascinating journey underwater.  It is definitely a place for kids and adults alike.
Es Baluard Museu d'Art Contemporani de Palma
Es Baluard Museu d'Art Contemporani de Palma is simply known as Es Baluard among locals as well as tourists. This is a little slice of paradise for art lovers with its collection of 700+ artworks. These include many of the internationally acclaimed artists from the Balearic Islands. It has become one of the best places to see in Palma as it also gives you a glimpse of movements that have shaped the art world we see today. 
Baños árabes
If you are wondering what to do in Palma, then there cannot be a better place than Baños árabes. These archaeological remains stand as a reminder of the time when the island was under the Muslim rule. Surrounded by a serene garden right in the heart of the city, Baños árabes seamlessly combines nature, art, culture, and history. Spending an hour here is a unique way to understand the past of Palma.
Poble Espanyol de Palma
Poble Espanyol de Palma is a theme park, a show village, and a museum, all rolled into one. The number of reproductions of various famous buildings from Spain will take you back in time. Different palaces, houses, fortifications, and churches carrying the influence of Islamic as well as Christian architecture can be found here under one roof. 
Royal Palace of La Almudaina
The 10th century Royal Palace of La Almudaina ranks among top attractions in Palma de Mallorca. Refurbished throughout the centuries, this palace is a proud holder of many historically significant works. You can take a tour of the palace to see the opulent interior adorned with tapestries, period furnishings, and artworks. It is also the official summer residence of the Spanish royal family.
Mercat de l'Olivar
Mercat de l'Olivar is one of the best places to see in Palma de Mallorca as it takes you on a delightful gastronomic journey. This market is home to more than 100+ stalls that sell fresh seafood, local specialities, spices, sausages, wines, and baked goods. And of course, you cannot miss tapas bars here for an authentic Spanish experience. It is more than a simple market, Mercat de l'Olivar is the place to be a part of the local canvas. 
Plaça de Toros de Palma
From occasional bullfights to regular concerts, Plaça de Toros de Palma hosts several interesting events throughout the year. In fact, this venue proudly hosts the largest summer concerts on Mallorca island. If you are interested in cultural activities in Palma, it is recommended to check the schedule of Plaça de Toros de Palma and book your tickets in advance.
Fundació Pilar i Joan Miró in Mallorca
Fundació Pilar i Joan Miró in Mallorca is a museum that blends art and history together. This place is dedicated to Spanish painter, sculptor, and ceramist Joan Miró. The exhibitions here include over 6,000 works of the artists. Different painting exhibits, a library, and a sculpture garden are enough to keep art lovers engaged for hours. Who would have thought that the island city of Palma has so many interesting museums, right?
Places to see in Mallorca – 
Drach Caves
Drach Caves is a surreal place that takes you under ground and leaves you spellbound. It is a group of four interconnected caves and is home to an underground Martel Lake. One of the main tourist attractions in Majorca, Drach caves offer an immersive experience where you are surrounded by millions of years old stalactites and stalagmites formations. Do not miss a chance to take a tour of these caves when visiting Mallorca.
Cap de Formentor
Cap de Formentor is a dramatic peninsula that marks the eastern end of the island. You will find high cliffs and limestone peaks rising from the sea and greeting you with splendid views. There are a number of viewpoints around here and with a backdrop of the historic Formentor Lighthouse, you are bound to get amazing photos. The small beach of Playa de Formentor hidden away in a cove is also a must-visit here. 
Santuari de Lluc
The monastery and pilgrimage of Santuari de Lluc is the site that has shaped the religious history of the island. Dating back to the 13th century, this has become Majorca's most important pilgrimage site today. If you are a non-believer, Santuari de Lluc is still among the top places to visit in Majorca for you as they are proud to be the secular national symbol. Along with the religious vibes, the beauty of Tramuntana mountains and the Botanic Garden are enough to soothe your soul. 
Parc Natural de s'Albufera de Mallorca
Parc Natural de s'Albufera de Mallorca is a beautiful nature reserve hidden away in the northwest corner of the island. Heaven for nature lovers and bird-watchers, this stands as one of the popular places to see in Alcudia. You will find migrant birds like Montagu's harriers and Eleanora's falcons whereas other species include a long-eared owl, moustached warblers and stonechats. This nature reserve also has the largest wetland of the Balearic islands on the premises. 
Mondragó Natural Park
From beaches and dunes to grasslands and pine trees, Mondragó Natural Park is an unspoilt Majorca gem for nature enthusiasts. Even if the park is located in a remote area, many of the tourists come here to soak in the views of the Cala Mondrago and S'Amarador Beach. These count among some of the nicest places to see in Mallorca. But apart from that, bird-watching and nature walks can also be enjoyed at Mondragó Natural Park. 
Castle of Capdepera
Considered to be the largest castle on Majorca, Castle of Capdepera will take you back in time. Even though it dates back to 310, the structure we see today was built in the 14th century. From a military fortification to an abandoned site, the castle has seen many phases in the last few centuries. Today, it proudly stands as the 'Asset of Cultural Interest'. Taking a tour of the Castle of Capdepera is necessary to get a glimpse of the history of Majorca. 
Katmandu Park
You will love spending a day at Katmandu Park no matter how old you are! This theme park is the best place for Majorca family holidays as it has everything from a water park to thrill games. Kids will enjoy soft play adventure, splash park, and dark rides. The famous Steampunk parades where face painting and dancing are included along with fun shows are ideal for all ages. Do not miss a chance to go to a 4D cinema, a mini-golf course, and electronic shooting games. 
Castell d'Alaró
Perched on top of the mountain, the ruins of Castell d'Alaró stand representing the bygone era. It overlooks the town of Alaro and is loved by hikers and history buffs. A small winding road from the town takes a couple of hours to reach the castle on foot. The route is easy to cover and the castle is worth all the efforts. If you are interested in more places to see in Majorca, then you will also find a small chapel and sanctuary along with a bar and restaurant nearby. 
Sanctuary of Sant Salvador
The Sanctuary of Sant Salvador is located less than 5 kilometres southeast of Felanitx. A stunning viewpoint and an unusual structure have made it one of the must-visit tourist attractions in Majorca. Founded in the 1340s and refurbished over the centuries, you will find an exquisitely carved stone altarpiece along with a barrel-vaulted ceiling. The 35-meter-high statue of Christ also dominates the skyline here. 
Aqualand El Arenal
Aqualand El Arenal is one of the family-friendly places to visit in Majorca. This water park is proud to present a number of fun rides along with 16 different pools. Kids will love slides like Children's Paradise, Dragoland, and Polynesia whereas adults can make the best of their time here with Anaconda, Banzai, Black Hole, Kamikaze, Devil's Tail, Grand Canyon, and Tornado. The go-cart tracks and a trampoline also add to the fun when you are at Aqualand El Arenal. 
Beaches in Majorca
Any holiday in Majorca is incomplete without lazing on its beaches. The whole island is a treat for sun worshippers and water sports enthusiasts as you will come across more than 200 Majorca beaches here. But do not let the number of serene beaches overwhelm you. Here are some of the best beaches in Majorca that must be a part of your vacation. From popular ones to lesser-known, this list has got it all. 
Playa de Palma 
One of the best beaches in Palma, Playa de Palma is everything you need for the perfect holiday. You will find several hotels, bars, and shops lining the shore and sun loungers dotting the stretch of golden sand. Located less than 10 kilometres away from Palma, Playa de Palma is loved by swimmers and sunbathers.
Caló d'es Moro
The secluded cove housing the small Caló d'es Moro will take your breath away with its virgin natural beauty. The road leading to the beach is hard to locate, most of the sandy stretch is undeveloped and watersports are few. All these combined rank it among the less crowded beaches in Majorca. If you are anywhere near Santanyi, do not miss a chance to go to Caló d'es Moro and let clear blue water soothe your eyes. 
Magaluf 
Located in the southwest corner of the island, the resort town of Magaluf is the place to be if you are wondering where to stay in Majorca for beaches and nightlife. Its large sandy beach of Playa de Magaluf is full of waterfront bars and all the required amenities. Be it the wild beach parties or luxurious yacht parties, Magaluf has it all!
Platja de Muro
When you are heading to a 6-kilometre long beach, any vacation is bound to be exciting. Platja de Muro promises just that! Divided into four different sections and great for kids and adults alike, this undoubtedly is one of the best beaches in Majorca. Go for paragliding, jet skiing, and water skiing or simply take a walk on fine sand here. 
S'Amarador
The spectacular S'Amarador Beach is located in the equally stunning Mondrago National Park in south-east Majorca. That also means you will not find many facilities here. But, the natural beauty and serene views offered at this Majorca beach are enough to keep you here for hours together. And if you are looking for a place to stay nearby, then the resort towns of Cala Mondrago and Cala d'Or are perfect. 
Es Trenc
Vibrant blue water, 2 kilometres of powdery white sand, and a backdrop of sand dunes – that's Es Trenc for you! It has several marked areas for nudist beach-goers, making it one of the best naturist beaches in Majorca. And even if you are not looking for a place to bare it all, this beach caters to families as well. With only a few resorts around and no watersports, Es Trenc maintains its tranquillity without fail. 
Sa Calobra
Named after a tiny village of the same name along the northwest coast of the island, Sa Calobra has two beaches to offer. You will find the smaller Cala Sa Calobra and larger Torrent de Pareis here. Both the Majorca beaches are a little hard to reach and reward you with postcard-perfect vistas. These pebbly beaches do not have many amenities and it is recommended to carry your own umbrellas and loungers. 
Cala Agulla
Cala Agulla is a delight that attracts sunbathers, swimmers, and snorkelers alike. Framed by pine trees and shaped by clear blue water, this stretch has become one of the best sandy beaches in Majorca. Enjoy a game of beach volleyball, go kayaking, or lay on the beach to catch a tan as Cala Agulla has something for all types of beach-lovers. 
Cala Torta
The moment you set foot on secluded Cala Torta, you will be swept away by the unparalleled views that welcome a few visitors that come here. The backdrop of rocks hides it away from the touristy crowd. The wind is usually strong, ensuring kitesurfing and windsurfing can be enjoyed to the fullest. You will find a small bar that serves refreshing beverages and food, but apart from that, there aren't many facilities at Cala Torta. 
Deià
The small coastal village of Deià is a lovely place to explore in itself, but it is made even more special because of the pretty Deià Beach it has. The rugged land that frames this beach and rocky pools filled with clear water look picturesque. You can go diving, snorkelling, canoeing, and kayaking when visiting Deià to make the most of your time. With all that it has, Deià can easily be one of the nicest beaches in Majorca. 
And if you are looking for more beaches in Majorca, then Cala Llombards, Platja des Coll Baix, Cala Major, Palmanova Beach, Cala Romantica, and Playa Santa Ponsa are for you!
Hidden gems 
The long list of things to do in Majorca and places to visit may have you convinced that you now know all about this Spanish island. But, just when you think you have explored all of Majorca, the island reveals its more gems! Here, you will find 5 secret places in Majorca that are usually not covered by many tourists. So, promise us you will not spoil some of the hidden places we are sharing here with you and read on.
Pollença town
When you visit the rural town of Pollença, you will wonder how this fascinating place has managed to stay under the tourist radar for so long. It is located near the northwest corner of Majorca near Cap de Formentor. Medieval streets lined with 17th and 18th-century houses create a perfect backdrop for your tour here. But most importantly, Pollença has a 365-step stairway that takes you to the Calvary Chapel on top of the hill. One of the lesser-known places in Majorca, this town attracts only a few curious travellers.
Port des Canonge
Port des Canonge is a protected beach on the northwest corner of Majorca. The water here is adorned by characteristic tiny fishing boats and the shore is covered with small pebbles. Even though frequently visited by locals, this beach can easily be among the secret places in Majorca for tourists. The strong winds and gravels on the beach keep most of the travellers away, but that also means you might get the whole Port des Canonge to yourself. Consider stopping by for some time if you are in the neighbourhood. 
Llucalcari
Majorca's west coast is home to this beautiful Llucalcari village. With only a handful of traditional houses around, it looks like the village is standing still in time. But as you start exploring Llucalcari, you will realize how truly dreamy this place is. Those who are searching for Majorca's hidden places, this village is the answer. The winding routes offer postcard-perfect views while walking and red mud near the beach is believed to be detoxifying for the skin. Even when the entire island is buzzing with tourists during summer, Llucalcari maintains its peace. 
Cala Tuent
Backed by a steep hill and greeted by the greenish-blue water, the pebbly shore of  Cala Tuent has succeeded in staying under the radar. As there are not many facilities here and the beach lacks a bar or a restaurant, it would be better to carry the essentials with you. As most of the tourist buses pass by Cala Tuent without stopping, it is usually one of the less crowded beaches in Mallorca. If the weather is ideal, you may consider diving or snorkelling here. 
Campanet Caves
Campanet Caves are well-known and yet remain one of the underrated tourist attractions in Majorca. Located on Mount Sant Miquel in the northern part of the island, these caves are full of stalagmites & stalactites formations. You can be part of the official 40-minute interactive tour. It will help you understand how the excavations here uncovered fossils of an animal that is believed to be extinct for more than 4,000 years. Do not miss a chance to explore Campanet Caves for it will be a fascinating experience.
Nightlife in Majorca
From billionaires to backpackers, the nightlife of Majorca caters to everyone. After Ibiza, Mallorca can easily be the next hedonistic capital for nightlife lovers. The good part of the island is that every village, small or large, has exciting bars or pubs. Of course, cities like Palma are the best to make the most of your vacation here. Let's take a look at what Palma and rest of Majorca have in store for you when it comes to drinking the night away.
Palma 
For those who wonder where to go in Majorca for nightlife, Palma is the answer! The neighbourhoods of La Llonja and Santa Catalina are known for their quirky mix of restaurants, bars, pubs, and nightclubs. The live music at the Jazz Voyeur Club, blues concert at Bluesville, and the eccentric vibes at Abaco cocktail bar are loved by everyone. You will also come across several waterfront establishments along Paseo Marítimo that truly capture the energetic nightlife. The famous Tito's nightclub here is a must when it comes to the best nightlife in Palma de Mallorca. Be it international-style clubs or authentic tapas bars, pick your destination and get ready for a night full of fun.  
Magaluf
The resort town of Magaluf is a heady combination of drinking and dancing. It does not matter if it is a day or night, or if you are a yacht-owning millionaire or a broke college-going student, the streets of Magaluf are overflowing with pleasure-seekers 24 hours a day. This is where you will find some of the best resorts in Majorca for nightlife. The luxurious Nikki Beach Club will sweep you off your feet and places like Tokio Joe's or Banana's will offer the best of drinks without burning a hole in your pocket. 
Alcudia 
Apart from its beautiful beaches, Alcudia also has an immersive nightlife that is not explored by many. It is the perfect place for those who do not want to constantly navigate through a hoard of tourists. The laid-back vibes of Menta club here or the British vibes of Bells Disco Bar or The Foxes Arms Bar are enjoyable here. In fact, the marina area in Alcudia will surprise you with good nightlife in Majorca with a blend of Irish bars and chic restaurants. 
Try to be a part of lavish yacht parties as well as resort-hosted fiestas where music and fireworks are at its best. These will definitely be the highlight of your nightlife in Mallorca. 
How to spend a day in Mallorca?
Mallorca deserves a lot more time than 24 hours, but if you have got only a day, then here is how to spend it. It is recommended to stay in Palma and explore the island's capital city when you have limited time on your hands. Spending one day in Majorca to explore Palma will allow you to cover its history, culture, cuisine, and nature without much hassle. 
Start your day with an early morning breakfast at one of the cosy restaurants in Old Town. The stylish Cappuccino Palau March is located minutes away from the famous Cathedral of Santa Maria of Palma and is perfect for grabbing a quick breakfast. You can then proceed to La Seu to start the Palma sightseeing. You can spend more than an hour soaking in the tranquil vibes and exquisite architecture of this cathedral. Head off to the beautiful Baños árabes next. The combination of the archaeological ruins and well-manicured garden will keep you engaged here.
Wandering the cobblestone lanes of Old Town is a must before going to Plaza Mayor. The maze of these medieval streets is home to several other tourist attractions in Palma including Mercat de l'Olivar and Es Baluard. If you can manage to squeeze one of such places in your itinerary without much hassle, then stop by for some time depending on your interest. 
Spending a couple of hours in the afternoon at Plaza Mayor is a great way to find good lunch in Palma. From talented street artists to authentic tapas bars, this public square will treat you with all things local. You will also find several market stalls around here that are great for souvenir shopping in Palma. 
Then, you can go to the iconic Castell de Bellver. When you are spending only one day in Palma de Mallorca, this is a must. You can opt for a bus, taxi or a rental car to reach the castle. As there are several direct buses from Palma to the castle, it is the cheapest option to reach Castell de Bellver. Keep in mind that you will have to walk for less than half an hour to reach the castle from the bus stop. Check the opening and closing times of the castle before planning your visit. If you find that the castle is closing early on the day of your visit, you can spend a morning here and then go to La Seu in the afternoon. 
Reserve your evening for the urban beach and then spend the remaining time in the neighbourhoods of La Llonja or Santa Catalina. These areas are known for eccentric nightlife in Palma and you can enjoy bar hopping here. This is how to spend one day in Majorca to cover all the significant points this city is known for!
 Mallorca for couples
Mallorca is the perfect island for couples to celebrate their love for each other. With a plethora of romantic places in Majorca, it has become a popular choice for a couple's holiday. So, we are here with a few suggested places and activities to include in your Majorca trip plan to make it memorable. 
Instead of bustling Palma, stay in one of the laid-back towns like Alcúdia. It will give you a nice break from all the hassle and a chance quiet time on one of the beaches. And when it comes to romantic beaches in Majorca, the island has plenty of options. You can choose from Cala Llamp, Llucalcari, Cala Falco, and Son Serra de Marina. 
If you are one of those couples who enjoy outdoor activities, then a road trip to Cap de Formentor or hiking in Torrent de Pareis canyon are perfect. You can also go for wine tasting at Bodega Ribas winery or join one of the popular tours for wine tasting in Majorca. Also, with so many luxurious resorts on the island, spending a day at a spa to pamper yourself is recommended. Many travellers vouch by Hammam Palma and Carrossa Hotel Spa.
 Mallorca for group vacationers
When you are visiting Mallorca with a large group, you will find several exciting activities to keep you all busy. Even if people in your group have diverse interests, here are a few things you all will find interesting. Golfing in Majorca is very popular with different world-class golf courses. The Golf Son Muntaner in Palma, Real Golf de Bendinat in Cas Català, and Golf De Andratx in Camp de Mar are loved by amateur as well as seasoned golfers. 
Hot balloon rides are also a good way to catch a sunrise or sunset. Of course, for a large group, it is necessary to reserve your tour in advance. But after that is done, you are in for an unforgettable experience.
If your group is in good physical health, then cycling is one of the best group activities in Majorca. If you are looking for easy routes, then the one from Manacor to Arta is for you. If you all are interested in an adventure, then go for harder routes like Southern Tramuntana Coastal Road or Cap de Formentor. And when it comes to a fun day, beaches and theme parks will cater to you all right away.
 Mallorca for a family holiday
If you are wondering what is there to do in Mallorca for families, then remember that there cannot be a better place for a family holiday than Majorca. This is, in fact, the island of fun that accommodated all age groups effortlessly. You will easily find numerous child-friendly hotels in Palma and Alcudia. These family resorts in Majorca offer amenities like a shuttle bus, swimming pool, and kid-friendly menus in their restaurants, making your vacation easy to handle.  
Attractions like Palma Aquarium, Marineland Mallorca, Tren Soller, Safari Zoo, Golf Fantasia, and Aqualand El Arenal, Western Water Park, and Katmandu Park are a must for every family holiday in Majorca. Many of the beaches are equipped with basic facilities and are safe for kids. It will help you plan your itinerary in a way that it is suitable for children and adults alike. 
It is suggested to stay in Palma when you are travelling with kids. Bustling markets, well-maintained parks, major tourist attractions, and restaurants that welcome children warmly make Palma an ideal choice for every family vacation. The city is easily walkable and most of the streets are pram-friendly. So, no matter how old your kids are, Majorca will make them happy with its variety of things to do and places to see.
 Mallorca for solo travellers 
Mallorca provides a safe and easy to navigate land where solo travellers are also welcome. Most of the hotels, homestays, and hostels are suitable for people visiting the island on their own. If you are one of those who come to Majorca in summers, you are bound to be surrounded by a lot of people even when you are here alone. Even during winters, Majorca is bustling with enthusiastic tourists. You will find the solitude, but you will never have to worry about safety.
If you are interested in partying and meeting new people when travelling solo in Majorca, Palma is the ideal location. Staying here will give you access to urban beaches, good restaurants, and chic accommodation. But it would be better to choose one of the smaller towns as your base if you are looking forward to soaking in the island's vibes at your own pace. Rent a car in Majorca and explore the roads or hop on a cycle and wander along the scenic routes. Strolling in the local markets or sunbathing on lesser-known beaches will make the perfect solo holiday in Majorca. 
Even though Palma and most of the resort towns in Majorca are awake through the night partying, it is recommended to follow basic safety rules. 
 What to pack when visiting Mallorca
Most of the Mallorca visitors come to the island either in summer or in winters. But if you think that the clear separation of seasons will help you simplify the packing process, then hold on. It is not as simple as it seems. We often get questions like 'what should I wear in Majorca?' or 'what should I bring to Majorca?'. So, here are the answers to some of the most popular questions about the Majorca packing list. 
Packing tips for Majorca summer – Even though summer in Majorca starts in June, temperatures start rising from mid-May. The months of May and June see daily average temperatures of around 20 degrees Celsius with cooler evenings. If you are visiting Majorca during these months, pack for the beach but also carry a light jacket. If your trip to Majorca is scheduled between July to September, then keep in mind that the daily temperature reaches 30 degrees Celsius and the water temperature stays around 20 degrees Celsius. 
You will get to enjoy sunbathing and watersports during this time. So, pack accordingly. Also, waterproof sunscreen with a good PF level, sunglasses, bathing suit, beach towels, and a sunhat is a must all the time. 
Packing tips for Majorca winter – Cold seasons starts in mid-November and stays until February. Mild winters of Majorca are bliss and let you pack fewer thermal wear or jackets than other European regions. Temperatures usually stay above 1 degree Celsius and snowfall are rare. If you are not used to the winter air, then remember that layering is the key. Not all the accommodation facilities are centrally heated. So, warm clothes are necessary inside as well. 
This is the ideal time to explore outdoors. From hiking to cycling, all the activities can be added to your itinerary. But remember that rain is also a common part of this season and carrying a rain jacket is advisable. 
There are a few other essentials when visiting Majorca no matter when you are planning your trip. Mosquito or insect repellent, flip flops, sturdy footwear, travel adaptor plug, and sunglasses are always good to carry. 
 One day trips from Palma 
Many of the tourists on Majorca prefer to make Palma their base and then explore the rest of the island by train, bus, or a car. It is convenient as Palma is well-connected with the rest of the island by public transport and also has some picturesque road trip destinations nearby. So, if you are interested in following this Majorca trip plan, then here are some exciting day trips from Palma that cover popular as well as lesser-known places. 
Port de Sóller
If you have heard of Majorca, then chances are you have heard of Port de Sóller for this beach resort town is an iconic destination in itself. A day trip to Soller from Palma is one of the most preferred options amongst tourists. The main attraction here is the charming historic train that takes you to Soller from Palma. If you are planning to visit this town at your own pace, then do stop at Bunyola. After all, if you can cover two places in a day without any hassle, then why not take a chance, right?
Lluc and La Calobra Cove
This is one of the day trips from Palma that lets you visit multiple places on the island and around. Take a train from Palma to Lluc Sanctuary, spend a couple of hours at this 13th-century pilgrimage site, and catch the picturesque valley views of the surroundings. Then, hop in the boat and head off to Sa Calobra. This magical place is one of the best destinations in Majorca where a pristine cove and a pebbly beach attract thousands of tourists. But, covering both the places in a day may prove to be a little fast pace for many. In that case, you can be a part of a half-day tour from Soller to Sa Calobra Cove.  
Binissalem
The small district of Binissalem is actually a little slice of paradise for wine connoisseurs. It is a great place for day trips in Majorca as this traditional town is surrounded by postcard-perfect vineyards and cosy wineries. In fact, Binissalem wine has rightfully made it the wine capital of the island. It is recommended to rent a car or book a taxi to explore the best of these wine routes in Mallorca. Booking a taxi from 89transfers is a great way to go wine tasting and enjoy the process without worrying about driving back to your accommodation. 
Deià
The coastal village of Deià is as idyllic as it can get. This pretty village has become the playground for rich and celebrities with its poetic land and picturesque vistas. Providing solace for creative souls, Deià ensures to soothe you in a short time. The British poet Robert Graves found, fell in love with, and preserved this village's beauty through words. From The Beatles to Beyoncé, no one resisted the charm of the Mallorcan gem. Visit Deià on a day trip from Palma and discover what makes it magical yourself. 
Alcúdia
When you are tired by tourist groups that are all over Palma and Magaluf, hop in your car and get ready for this one-day road trip in Majorca from Palma to Alcúdia. This peaceful town with its serene beaches will pamper you. From open-air markets to handicraft shops and from hiking, cycling routes to Alcanada Golf Club, this town has something for all types of visitors. If you can manage, consider going to the bewitching Formentor Lighthouse around sunset.
 Events and festivals in Majorca
You will be delighted to know that amidst all the touristy hustle and bustle, Majorca has succeeded in preserving and promoting its unique culture through a number of exciting events and annual festivals. From its very own carnival parades to traditional wine tastings, festivals in Mallorca are plenty. You will also get to be part of sporting events in Mallorca as the locals celebrate different events with equal enthusiasm. Take a look at some of the most popular festivals and events in Majorca. 
Festes de Sant Sebastià
Festes de Sant Sebastia marks the grand 2-week long celebrations in Palma every January. Known to be one of the biggest festivals in Mallorca, this honours the patron saint of the capital by arranging different cultural activities, entertainment events, and sports events. For those looking for what to do in Palma in January, Festes de Sant Sebastiá is the perfect opportunity to witness the Majorcan culture.
Sa Rua and Sa Rueta
The island of Majorca has its own zesty carnival known as Sa Rua & Sa Rueta. Even though street parades accompanied by live music are arranged in all parts of Majorca, Palma is famous for hosting the biggest parties. The children's event is known to be Sa Rueta whereas Sa Rua is an adult's parade.
Festa des Vermar 
Binissalem, the unofficial wine capital of the island, will greet you with its unique annual grape harvest festival. Held in September every year, this festival has everything from wine tasting competitions to grape crushing events spread over 2 weeks. This wine festival in Mallorca is the best way to take a wine enthusiast in you on a ride. 
Es Firó Festival
Each year, the town of Soller comes alive with an interesting Es Firó Festival. Representing history and weaving it together with culture, this fest is all about the battle that took place in the 1560s between the people of Sóller and the invading 'Moors'. You will get to all about the bravery of locals through vibrant re-enactment along the beach. 
Son Amar Dinner show
The Son Amar show is a passionate and elegant performance that will give you a glimpse of the colourful culture of the Majorca island. With 20 different acts and a delicious dinner, this show in Mallorca will take you on an extraordinary journey. You will get to witness performances that present the breath-taking combination of flamenco, modern ballet, orchestra, flying dances, and acrobatics. 
Dijous Bo
Dijous Bo is far away from all the festivals that Majorca celebrates. Considered to be the largest annual fair in Majorca, this is dedicated to agriculture and is hosted in November in Inca. This funfair has all sorts of cultural activities, sporting events, music, and a cattle market. You can catch a train from Palma to reach Inca or you can book a taxi for the flexible and hassle-free commute as public transport can get pretty crowded during this time. 
Olive Fair
When The Guardian declared Caimari's Olive Fair to be among the top gastronomic festivals in Europe, it was not exaggerating. Raw olives, olive oil, and even products made out of olive wood find their way to this agriculture fair. The third weekend in November is the best time to be part of this Olive Fair. You will find everything from livestock exhibitions to lively folk performances here.  
Mallorca 312
Mallorca 312 is one of the biggest cycling events in Mallorca with a successful organization of more than a decade. Organized in Playa de Muro, this event attracts more than 8,000 cycle enthusiasts each year. People from around the world come together in Majorca at the end of April and choose routes that span from 167 kilometres to 312 kilometres. If you are an amateur cyclist, then opt for the shortest route as its steady climbs are not too tiresome. 
Pirates Adventure Show 
Magaluf is known for its nightlife and a show like Pirates Adventure is an essential part of this nightlife from the last 3 decades. This is a popular acrobatics show combined with drinks and dinner that presents a thrilling experience. Its elements like action and comedy, fun and gymnastics will keep you on the edge of your seat throughout the performance. 
Annual Palma Superyacht Show
Majorca is an island that makes the most of its surrounding sea. This show celebrates luxurious yachts as well as basic nautical exhibitors with equal passion. It is usually arranged in April or May depending on the wind and weather conditions. And even though you need to pay a small entry fee, this Annual Palma Superyacht Show is worth every penny for nautical enthusiasts.
 Food in Majorca 
Mallorca food is something that pampers your taste buds while representing its history and culture. The traditional Spanish ingredients blended well with African and Roman cuisine represent food in Majorca. It is the perfect balance of seafood and vegetables that is light on your stomach and rich in flavours. And even though it is a part of Balearic cuisine, Majorca food stands apart with its preparation methods, spices, and taste. So, when you want to know what food is Mallorca famous for, all you have to do is read on!
Breakfast 
When you are trying Mallorca breakfast, it cannot be completed without delicious Ensaïmada. This is a typical Mallorcan pastry that looks like a spiral cake. Combine it with sobrasada and you are in for a treat. The local bakeries are the best place to try authentic Ensaïmada. We suggest heading to Forn Fondo located on Calle Unión or any place in the heart of the old town for this. 
Lunch 
Lunch is the hearty affair on this island. You can make the most of 'menú del día' in the afternoon as this traditional three-course lunch comes at an affordable price and is full of local delicacies. The Majorcan bread of pa'amb oli or rice soup makes for the filling items. Of course, nothing can beat 'tumbet' – the Mallorcan version of French Ratatouille. If you accompany it with fish or meat, you are set for the day. Do not miss a chance to try pumpkin fritters, suckling pig, and different pork varieties. 
Best restaurants in Palma for lunch include Mar de Nudos, Forn de Sant Joan, Bon Lloc, Nuru, La Mémé, and last but not the least, Michelin-starred Marc Fosh. 
Dinner 
Dinner in Majorca can be all about fresh seafood if you want. Be it lobster, squid, or shrimp, you will find a variety of dishes to choose from. The traditional Paella comes in different forms and allows you to go for the one that suits your food preferences and taste buds. Aceitunas and alioli are also an essential part of Mallorcan cuisine. You will come across several market stalls in the evening where dinner dishes are made in a traditional way and allow you to fill your stomach with freshly-made local delicacies. 
If you are staying in the capital city and looking for what to eat in Palma de Mallorca, then Paella, Arròs Brut, Frit Mallorquin, and basic Spanish omelette are a must!
Tapas
You cannot miss the good old tapas in Mallorca! This favourite Spanish speciality is something that lets you connect over food. It can be a combination of different dishes, can be used to replace a meal, and is affordable. If you want to do it the local way, then pair your tapas with a glass of wine or beer or other drink of your choice. 
You will find tapas bars all over Majorca, but most of the tourists search for 'where do I get the best tapas in Palma'. So, here are a few popular places – La Vieja de Jonay Hernández, La Paloma, Café Restaurante Sibil·la, La Casa Gallega, and Forn De Sant Joan.
 Where to stay in Mallorca
When it comes to holidays in Majorca, most of the travellers choose Palma for at least a couple of days to visit some of the best spots on the island. Many take a day trip or two and stay in other towns if time permits. So, for those wondering what is the best area to stay in Majorca, it is undoubtedly Palma. If you are one of those interested in enjoying a laid-back stay, then Alcudia is the place for you. If you want to know where to stay in Majorca for nightlife, then choose Magaluf. Towns like Palma Nova, Port de Soller, Sa Coma, and Santa Ponsa also offer some of the best hotels in Majorca. Let's take a look at some of the options this Spanish island has for you. 
Palma 
The city of Palma is full of 5-star hotels in Majorca. From the luxurious Gran Melia Victoria to the elegant Sant Francesc Hotel Singular, you will find everything here. If budget is not the constraint, then stay in Old Town or Santa Catalina. If you are looking for economical options, then a few hotels in Son Armadams combine basic amenities and inexpensive stays. And those who look for the best area to stay Palma de Mallorca for nightlife, Paseo Maritimo is the place to be! 
Best hotels to stay in Palma and around – El Llorenç Parc de la Mar, Nikki Beach Mallorca, Nakar Hotel, Posada Terra Santa, and Iberostar Selection Playa de Palma.
Palma Nova
Palma Nova is located a stone's throw away from party-loving Magaluf and yet, it has preserved its relaxed vibes. Even though it has its fair share of eccentric bars and pubs, it has some of the best hotels in Majorca for young families. The combination of beaches and golf is enough to keep you engaged and when you are tired, places like Aparthotel Ponent Mar are ready to pamper you. If you want the taste of Magaluf, then you can choose adults-only Senses Palmanova. If you are in for a family-friendly Majorca holiday, then Elba Sunset Mallorca is for you. Many hotels in Palma Nova, Majorca are near Katmandu Park and offer amenities like a spa and fitness centre. 
Best hotels in Palma Nova – Fergus Style PalmaNova, Sol Palmanova All Inclusive, Globales Palmanova Palace, Hotel Agua Beach, and Hotel Gabarda & Gil.
Alcudia
The best part about Alcudia is that everything is hardly a few minutes walk away. Be it the quirky local bar or a pristine beach, most of the resort hotels in Alcudia are ideally located. In fact, most of the accommodations cater to families as well as backpackers. If you are traveling on a budget and looking for cheap hotels in Majorca, then Alcudia is where you will find the perfect place to stay. And if you are in the mood to splurge a little, then 4-star hotels in Majorca are also established in Alcudia. 
Best hotels in Alcudia – Hotel Condesa, Iberostar Alcudia Park, Zafiro Palace Alcúdia, Fonda Llabrés Boutique Hotel, ARA Alcudia, and Forum Boutique Hotel & Spa. 
Magaluf 
It is hard to find one perfect answer to which are the best party hotels in Magaluf. The lively nightlife this resort town is known for has ensured that it offers some of the best places to stay in Majorca. From affordable holiday apartments and hostels to high-rise hotels and adults-only resorts, you have many options to choose from to suit your budget and preferences. In fact, many who look for the best hotels for lads holiday in Magaluf go to places like Hotel BH Mallorca. 
Best hotels in Magaluf – Meliá Calviá Beach, Sol House The Studio, Hotel Samos, Sol Guadalupe, and Universal Hotel Florida Only Adults. 
Apart from the suggested towns and accommodations, hotels in Calas de Mallorca are also preferred by many. You can check accommodation on Port de Soller and also consider staying in Cala D'Or.  
 Is Mallorca safe to visit? 
Is Mallorca safe? If yes, how safe is Mallorca exactly? If you are planning a trip to the famous Mallorca island, these questions are bound to pop up in your mind. But keep your worries aside and pack only the essentials because Mallorca is entirely safe to visit. 
Mallorca has always been a popular holidays destination, especially among European travellers. The Spanish island that welcomes millions of people each year ensures that each visitor is safe and enjoys a vacation without any hassle. Of course, local authorities work tirelessly for Mallorca safety and even locals are nice enough to warn you of unsafe areas or routes if any. But, as is the case in all tourist places, it is always wise to follow a few basic safety tips when visiting Mallorca. 
It is strongly recommended to not leave any valuables in your parked rented car. 
If you are the night owl that loves beach parties, then try not to return to your accommodation alone after you are done dancing the night away. 
When exploring crowded tourist spots, keep an eye on your wallet and valuables. Pickpoketers are not many, but you don't want to take a risk now, do you?
Aggressive beach vendors and con artists are common in some parts. Stay away from them and do not indulge in a shell game. 
Always carry sunscreen, stay hydrated, and pack a mosquito spray if you are visiting in the summer season.