Airports in Mallorca
Many of you ask about the Airports in Mallorca. Either because you are looking to improve your ticket price or because you want to know if there is one closer to your location. Maybe you are just curious about the world of aviation, and you want to be informed of anything there is to know.
Spoiler alert – there is only one commercial level (public use) airport, and this is the well-known Palma de Mallorca Airport PMI. That's where also all of our Palma Airport Transfers leave. To learn about airports in Mallorca, keep on reading!
Palma Airport Transfer
Who would not like to have an airport in Alcudia? It would be great to get off the plane and be on the beach directly.
The only International Commercial Airport in Mallorca is the Airport of Palma de Mallorca(IATA Code: PMI, ICAO Code: LEPA).
This Airport, now owned by ENAIRE, is the third busiest airport in Spain, followed by Madrid and Barcelona.
Despite being an airport with only two tracks (divided into 4), it is very well structured to withstand significant workloads, landing on some days of the year the ratio of 1 aircraft per minute.
The Airport of Palma is truly a great place to start and end your vacation. Don't worry about bringing cash – there are several ATM's around the airport and also a currency exchange service. Whenever you feel that hunger kicks in, try one of the many yummy cafes or restaurants located in the Airport of Palma. Any shopping addicts out there will enjoy the fact the airport has many excellent shops and clothing outlets. What's more – duty-free shopping is available also for non-EU travellers. While you're waiting for your flight, don't forget to check your social media and read our blog since the Airport of Palma de Mallorca offers free wifi throughout the whole building.
If you want to read more about this great airport, follow this entry to deepen.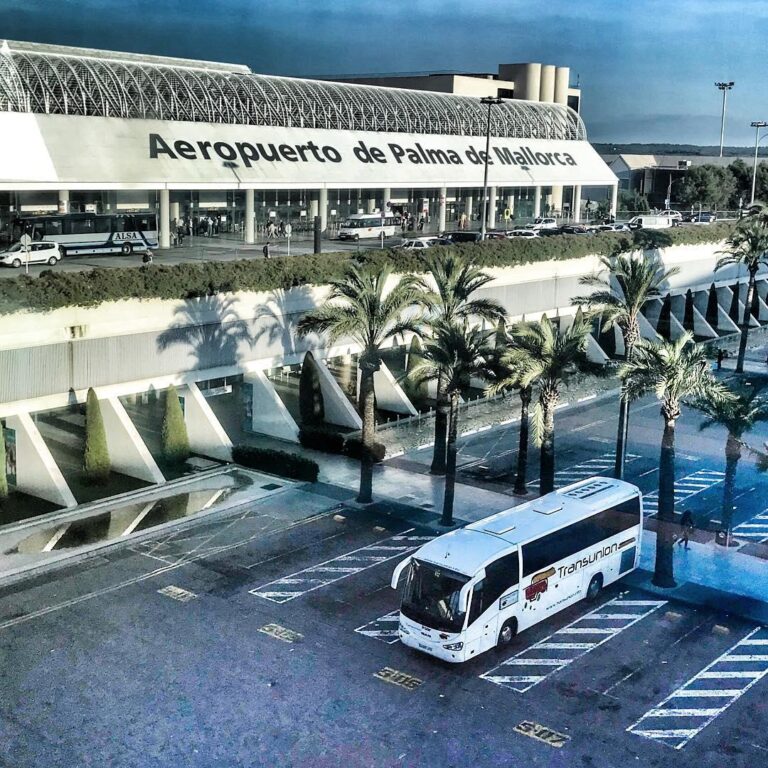 Are there more Airports in Mallorca?
Yes, there is one more airport in Mallorca – the Son Bonet aerodrome. Many years ago, this was the airport that served Mallorca. The first commercial flight arrived in 1927 and was operated by the legendary company Iberia. Nowadays, the airport mainly handles general and leisure aviation, and all passenger traffic is either private or from the flight schools.
The limit is not physical but logistic
Space is rarely a problem. A good example – the Princess Juliana International Airport in St. Marteen. Its runway is just over 7,500 feet in length. That's why it is right on the limit for larger jets arriving. Due to this, each aircraft must use each inch of the runway, which can seem quite dangerous.
If you like airplanes and action, do not miss this video.
Seeing planes take-off can be dangerous in some airports. Due to this, you might notice similar posters to this one: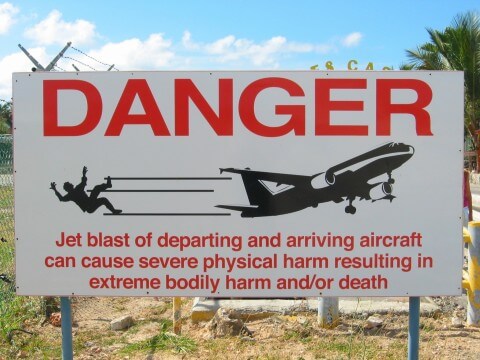 It's important to understand that the problem is not related to having enough space but its logistics. Since Palma is the capital, it means all commercial, parcel and courier operations are done for the institutions housed in Palma. Another important player is the Port of Palma.
If you think about it, it is quite logical, considering that Mallorca's approximate population is around 1M of people, and the capital is home to more than 400000 inhabitants.  For this reason only, the Palma de Mallorca Airport will be the only International Airport that serves the entire Island.
I am sorry to tell you that the creation of another "North Airport" for the area opposite the island is not foreseen in the medium-long term future, for the same reason explained above.
So no, there will be neither Airport in Magaluf nor Airport in Alcudia. Who knows – maybe in 100 years cars will fly and airports, as we know them today, will be a thing of the past.
But not everything is bad news
The truth is that every year the airport undergoes modifications and extensions of terminals to be more organized and faster. The truth is that it is an exemplary model.
We know in good faith that the opening of a new terminal is planned within the next five years, but it is unclear exactly when it will happen. Undoubtedly, it will be a very good addition, because despite not being extremely necessary at this time, it will help classify different types of flights so that in the end the operations will be faster, and benefit all the visitors of the airport.
Tips for visiting the Airport of Palma de Malloca:
The airport has machines to check in and print your boarding pass, and they are located next to the check-in counters.
Remember to print all of your travel documents. Keep in mind – some airlines might charge a fee to reissue boarding passes at the airport.
Nowadays, most airlines offer mobile check-in, which is relatively easy to use.
If you need to hire or rent a car, go to the car hire desks in the arrivals lobby. There are many car hire companies that offer their services.
Due to Covid-19, the use of a mask currently is compulsory.
For the same reason, the entry to the airport terminal is prohibited for anyone who is not travelling. Only passengers and people accompanying a passenger that needs assistance can access the terminal building.
To finish, we leave you with this great video of a plane landing at the Airport of Mallorca.
Listen to the conversation between the Commander and the first officer. It's truly worth your time!